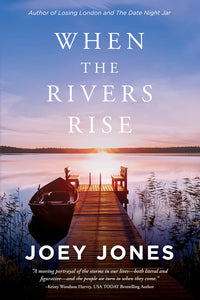 Three hearts, pushed to the limit. Can they weather another storm?
High school sweethearts, Niles and Eden shared a once-in-a-lifetime kind of love until an accident—and Eden's subsequent addiction to pain medication—tore them apart. Now divorced, their son Riley is Niles's whole world, and he'll do anything to keep him safe.
In constant pain, chronically tired, and resentful of Riley's relationship with his dad, Eden is a shadow of the woman she once was. When she meets Kirk, a charismatic drummer who makes her feel alive again, she's torn between evacuating with Riley before a hurricane hits and the exciting new life that beckons.
Reese has never quite gotten over the death of her father, a cop who was shot in the line of duty. Now a detective herself and the only special operations officer on the East Ridge, Tennessee, police force without children, she volunteers to go help as a potential category five hurricane spins straight toward the North Carolina coast.
As Hurricane Florence closes in, their lives begin to intersect in ways they never imagined as each is forced to confront issues from the past that will decide the future…their own, each other's, and Riley's.
Emotions swell like the rivers in the approaching storm in this poignant story of guilt, second chances, and the lengths we'll go to protect the ones we love.