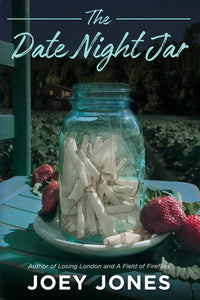 An unlikely friendship. An unforgettable love story.
When workaholic physician Ansley Stone writes a letter to the estranged son of a patient asking him to send the family's heirloom date night jar, she only intended to bring a little happiness to a lonely old man during his final days. But before long, she finds herself increasingly drawn to Cleve Fields' bedside, eager to hear the stories of his courtship with his beloved late wife, Violet, that were inspired by the yellowed slivers of paper in the old jar. When Cleve asks her to return the jar to his son, Ansley spontaneously decides to deliver it in person, if only to find out why no one, including his own son, visits the patient she's grown inexplicably fond of.
Mason Fields is happily single, content to spend his days running the family strawberry farm and his evenings in the company of his best friend, a seventeen-year-old collie named Callie. Then Ansley shows up at his door with the date night jar and nowhere to stay. Suddenly, she's turning his carefully ordered world upside down, upsetting his routine and forcing him to remember things best left in the past. When she suggests they pull a slip of paper from the jar, their own love story begins to develop. Before long, their newfound love will be tested in ways they never imagined, as the startling truth about Mason's past is revealed…and Ansley's future is threatened.