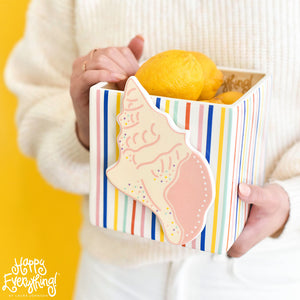 From statement décor pieces to versatile storage pieces, our Happy Line Up Mini Medium Nesting Cube is a must-have for any stylish home.
 Whether used to hold pens and pencils or as a stylish planter, this nesting cube will quickly become a go-to necessity.
Its modern stripe pattern and unique shape, make it an elegant, multifunctional piece to add color and style to your table or home décor.
 

Ceramic

 

5.5in L x 5.5in W x 5.5in H

 

Medium

 

Wipe Clean